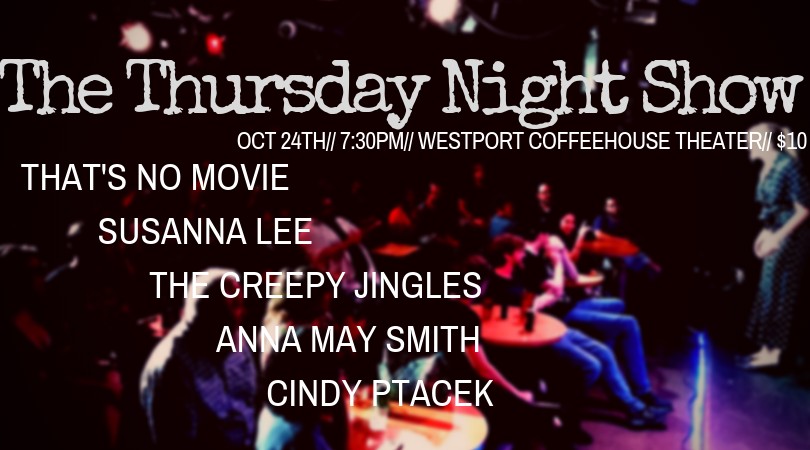 The Thursday Night Show


October

The Thursday Night Show is a live Kansas City variety show featuring local comedians, musicians, and artists each month at the Westport Coffeehouse Theater.

Our October line-up includes:

Improv by indie favorites That's No Movie, an improv comedy group that performs high-energy, fast-paced improvised movies, using just their minds and bodies to create everything you'd see on a movie screen — the characters, props, sets, special effects, musical soundtracks, camera angles and more. They have studied and perfected dozens of movie and TV genres, including space operas, slasher flicks, Disney Princess animated features, super-hero blockbusters, Hitchcockian thrillers, Lifetime movies, Rankin Bass holiday Claymation specials, Nicholas Sparks tearjerkers and Hanna Barbera teenage detective cartoons. They have performed at improv festivals and comicons around the country, including the Del Close Marathon, the Chicago Improv Festival, the Chicago Nerd Comedy Festival, the Kansas City Improv Festival, the Omaha Improv Festival, Planet Comicon, O! Comic Con, Crypticon, TOPCON and the Midwest Gamefest.

Stand-up from Susanna Lee, a standup comic, storyteller, and patron saint to provocateurs everywhere. In addition to being a professional comedian, she's lived a life filled with brilliantly odd adventures, including time spent performing with a circus sideshow, teaching yoga, and navigating the sex industry, all of which have contributed to the highly engaging and truly unique voice and presence for which she's known and loved. Check her out at http://www.getluckydeluxe.com/

Musical guest The Creepy Jingles, Kansas City psychedelic indie rock band featuring:
Singer/ Songwriter Jocelyn Olivia Nixin
Guitarist Travis McKenzie
Drummer Nick Robertson
Bassists Adam Scott York

Hosted by Anna May Smith.

All of this for just $10. Get your tickets today! Disclaimer: this is a live comedy show, don't bring your kids.