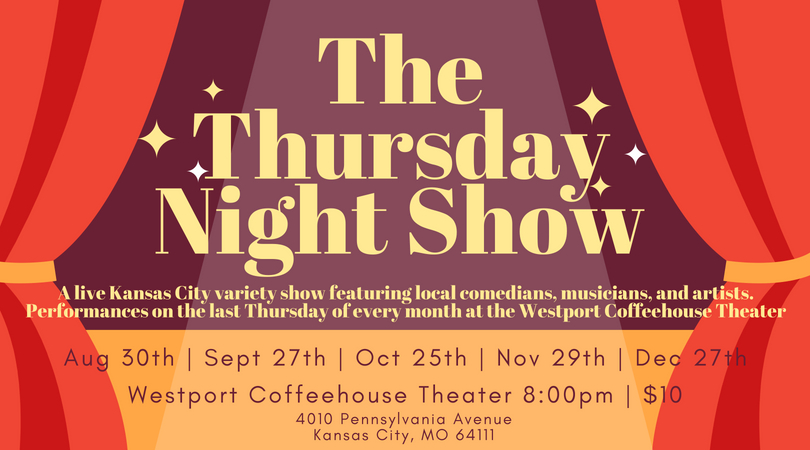 The Thursday Night Show
Multiple Dates, all showtimes at 8:00pm
Please scroll down to see upcoming show dates and ticket information.
The Thursday Night Show is a live Kansas City variety show featuring local comedians, musicians, and artists. Each month at the Westport Coffeehouse Theater, we entertain you with original music, improvised comedy, and wild card performances to get your weekend started right.
Our November line-up includes:
Improv by powerhouse comedy troupe Ham Kitty. This Kansas City-based improv quintet features Trish Berrong, Kate Haugan, Tina Anderman Morrison, Ashley Osborn Garr, and Jen Roser. Ham Kitty performs scenes based on stuff you pull out of your purses, pockets and bags and throw in their Mystery Bucket.
Music by Kadesh Flow, a Billboard charting rapper, trombonist, and producer who wows listeners with his musical versatility. Kadesh is a member of the NPC (Nerdy People of Color) Collective, collaborating on fun, relevant content and fostering a community for underrepresented nerd enthusiasts.
Clowning from Marty Honig, one of Kansas City's top professional clowns, and all around hilarious comedian.
Hosted by Anna May Smith and Cindy Ptacek.
All of this for just $10. Get your tickets today! Disclaimer: this is a live comedy show. You can bring your kids, but we're probably going to say some swears.