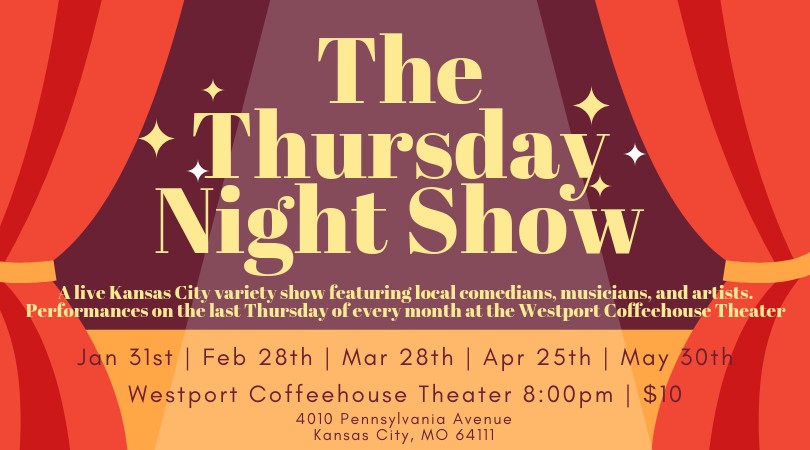 The Thursday Night Show
Multiple Dates, all showtimes at 8:00pm
Please scroll down to see upcoming show dates and ticket information.
The Thursday Night Show is a live Kansas City variety show featuring local comedians, musicians, and artists each month at the Westport Coffeehouse Theater.

Our January line-up includes:

Improv by Genuine Pig - a Kansas City improv trio starring Tiffany Chappell, Laura Irwin, & Carolyn Pjecha.

Music by The Summer Storms, an Americana/Folk trio from Kansas City comprised of Amanda O'Brien (vocals/dobro/harmonica), Thaddeus O'Brien (guitar/vocals), and Michael Ptacek (bass guitar). Voted audience choice 2 years in a row at the Kansas City Human Rights Campaign Battle of the Bands 2017 and 2018, The Summer Storms just released their first EP Bootlegger.
Reading by Shelley Staib, excerpts from her book I've Got a Pole You Can Climb: Tales of a Telephone Technician.

Hosted by Anna May Smith and Cindy Ptacek.

All of this for just $10. Get your tickets today! Disclaimer: this is a live comedy show. You can bring your kids, but we're probably going to say some swears.