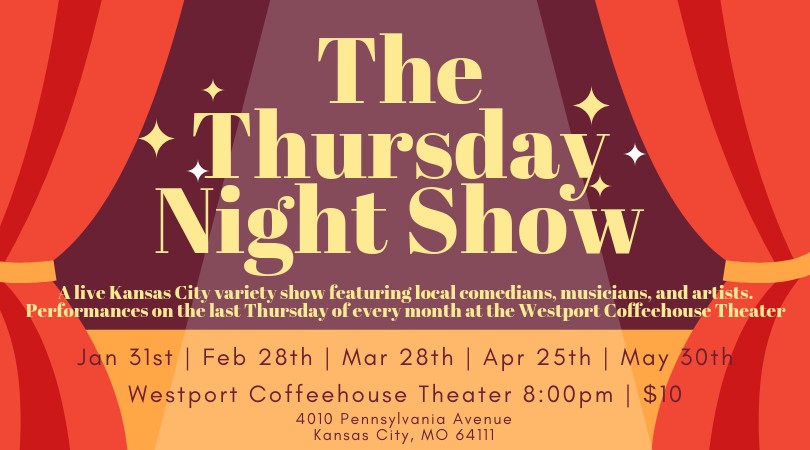 The Thursday Night Show
Multiple Dates, all showtimes at 8:00pm
Please scroll down to see upcoming show dates and ticket information.
The Thursday Night Show is a live Kansas City variety show featuring local comedians, musicians, and artists each month at the Westport Coffeehouse Theater. This month is super special because it's Anna's birthday!

Our June line-up features:

Improv by U PEOPLE. U People are an all black improv group whose improv draws from their own perspectives, and life experiences, but cuts across all cultures. No matter which improv form they perform, it is uniquely their own, and always hilarious.

Music by Flatpenny Revue, a roots music duet based in Kansas City. Influenced by folk, Americana, country and blues music from around the world, Leslie Giggler and Scott DeVouton have been involved with various band and solo projects. Look for them around Kansas City and beyond.

Stand up from Nick Nichols. A St. Louis native, Nick Nichols is a comedian in the Kansas City area. Nick's style of comedy has allowed him to perform at clubs, colleges, corporate and family events. He is currently one of the house emcees and features for the KC Improv Comedy Club and was the winner of their 2017 Clash of the Comics! Outside of comedy, Nick also speaks at various events. He has a TEDx talk that is available to watch on the official TEDx YouTube channel.

Hosted by THE BIRTHDAY GIRL Anna May Smith!

All of this for just $10 (or $8 if you buy online so get your tickets today and save those dollars for beer!)
Disclaimer: this is a live comedy show. You probably shouldn't bring your kids, because we're gonna say some swears.